U&lc back issues now available
February 14th, 2011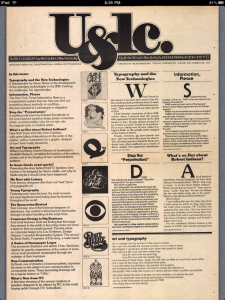 In 1974, ITC began publishing U&lc, The International Journal of Typographics. Herb Lubalin was the editorial and art director of the first issue and his seminal design set the stage for future issues of trend setting and award winning editorial creations. A few years after that, I had the great fortune of being hired by ITC to work with Ed Benguiat. A couple of years later, after the passing of Herb Lubalin, I became involved in the production and (eventually) creative direction of this renowned typographic journal.
The modest 24-page first issue declared, "U&lc will provide a panoramic window, a showcase for the world of graphic arts — a clearing house for the international exchange of ideas and information."
And, indeed, it did.
Over the 26 years that it was published, U&lc gathered a following of thousands of avid readers that eagerly anticipated each issue. It became the most important typographic publication of its time.
Monotype Imaging, Inc. is now making Volume One available for download via the Fonts.com blog. Read on for more info…
---
4 Responses to U&lc back issues now available